---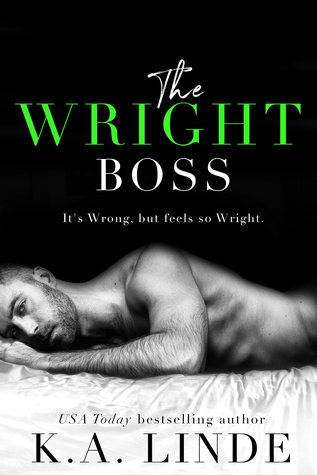 THE WRIGHT BOSS
Author: K.A. Linde
Reading Level: New Adult
Genre: Contemporary Romance
Released: May 16, 2017
Review Source: InkSlinger PR
A new stand alone office romance from USA Today bestselling author K.A. Linde...

I've always had one rule:

Don't mix business and pleasure.

But then Landon Wright comes home to his family's construction company with a broken back and a beaten heart and ends up as my new sexy boss. As the office gets heated, I'm thinking about throwing the rulebook out the window.

If only there weren't a million reasons this could never work.

We may have shared a single perfect kiss, but I can't let our intense connection cloud my judgment. Not with everything I've worked for on the line.

Dating your boss is so very, very wrong…even if he feels so Wright.
This is the second book I have read by K.A. Linde and I liked it even more than the first. I seem to have a thing for romance and tension in the office place. This book puts a twist on romance in the office place!
The Wright Boss is read as a standalone so you don't have to read other "Wright" books but I recommend it because so far I'm loving these characters! This book starts out with the hero, Landon, dealing with his marriage on the path to ending and finding amazing chemistry with an old friend, Heidi. Then Heidi, that has taken over all his thoughts becomes his employee and the crazy adventure begins.
I loveeeeeeeeee Heidi! She is so freakin awesome and I would want her for a friend in real life. She actually reminds me a lot of my BFF and I think that's why I connected so much with her character. She's witty, fun, beautiful, and a force of nature. OH and Landon is a perfect alpha male. So incredibly sexy with a sweet side and very athletic. SWOOOON! The two together are pretty combustible! There were some seriously hot sex scenes!! K.A. Linde knows how to write the fire!
The only thing I had a hard time with in this story was the fact that, for a little while, things were still up in the air with his marriage. Even after a shared intimate kiss with Heidi he thought about making it work with his wife. I kind of wish he had been completely removed from that situation before kissing another woman. It made my love for the Hero slightly less than it would have been.
Overall I'm rating this book with 4 stars because even with the slight issue I had it was a really enjoyable book. I loved reading it and was very entertained by the story line. The chemistry was insane between the two main characters and had me turning the pages non stop! I recommend this book!
ORDER NOW
ABOUT THE AUTHOR
K.A. Linde is the USA Today bestselling author of more than fifteen novels including the Avoiding series and the Record series. She has a Masters degree in political science from the University of Georgia, was the head campaign worker for the 2012 presidential campaign at the University of North Carolina at Chapel Hill, and served as the head coach of the Duke University dance team. She loves reading fantasy novels, geeking out over Star Wars, binge-watching Supernatural, and dancing in her spare time.
She currently lives in Lubbock, Texas, with her husband and two super adorable puppies.