---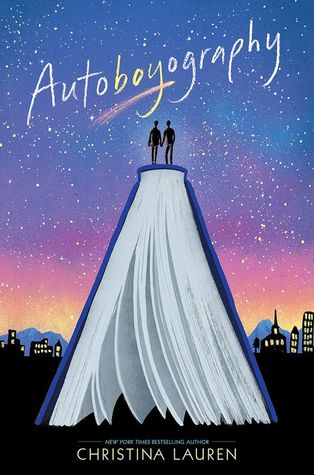 Autoboyography
Author:
Christina Lauren
Reading Level: Young Adult
Genre: Contemporary
Released: September 12th 2017
Review Source: Simon & Schuster Books for Young
Fangirl meets Simon vs. the Homo Sapiens Agenda in this funny and poignant coming-of-age novel from New York Times bestselling author Christina Lauren about two boys who fall in love in a writing class—one from a progressive family and the other from a conservative religious community.

Three years ago, Tanner Scott's family relocated from California to Utah, a move that nudged the bisexual teen temporarily back into the closet. Now, with one semester of high school to go, and no obstacles between him and out-of-state college freedom, Tanner plans to coast through his remaining classes and clear out of Utah.

But when his best friend Autumn dares him to take Provo High's prestigious Seminar—where honor roll students diligently toil to draft a book in a semester—Tanner can't resist going against his better judgment and having a go, if only to prove to Autumn how silly the whole thing is. Writing a book in four months sounds simple. Four months is an eternity.

It turns out, Tanner is only partly right: four months is a long time. After all, it takes only one second for him to notice Sebastian Brother, the Mormon prodigy who sold his own Seminar novel the year before and who now mentors the class. And it takes less than a month for Tanner to fall completely in love with him.
This book may be the hardest book I'm going to review this year. I was completely enamored by the story and I don't think my review will ever do it justice and honestly I wholeheartedly believe this is Christina Laurens best work yet.
Autoboyography
was a book my soul was looking for and didn't even know until it landed right in my lap. It delicately tackles a relationship that is frowned upon in the eyes of one of the boy's faith and the personal struggle of accepting and loving oneself as we are. And they do it without demonizing the faith and they made both the boy's battle true and raw.
Autoboyography
is told through Tanner's perspective. He had moved from California to Utah, he was proudly out to his friends and family as bisexual in California but since he is now living in a town that is primarily Mormon he's kept his sexuality within the walls of his own home. Not even his best friend Autumn knows. So when she dares Tanner to take a writing class next semester she has no idea what she is about to get Tanner into, nor does Tanner. In walks Sebastian, a mentor for this years writing class and from the very first look Tanner is hooked. He can't keep his eyes off him and can't help himself for social media stalking him later. Tanner is crushing hard on Sebastian, the Bishop's son, and we soon find out that the crush isn't one sided, but with Sebastian's involvement and faithfulness with the LDS church makes things a bit confusing.
So as you can see Christina Lauren set themselves up with a challenge and executed it perfectly. They gave us all perfect swoony moments they are so perfect at but gave us a raw story that tackles someone's inner battle of what's right and wrong. What they feel in their heart is right but everyone around them is telling them it's wrong. It tackles a religion that sees something as wrong but doesn't blame or demonize their followers, questions the church as a whole, not necessarily its followers. Not only does Sebastian have challenges he overcomes but Tanner as well. I wish I could adequately express how much this book meant to me but I'm not a writer and unfortunately can't compute what my brain wants to say to my fingertips. Hands down in my opinion Christina Lauren's best work to date. This will definitely be a book that I will shove into everyone's hands and tell them they need to read it. It was a book I didn't know I was looking for but thank God it found me!