---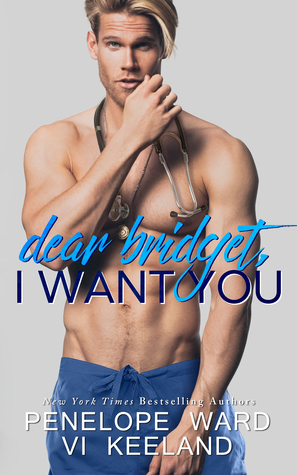 DEAR BRIDGET, I WANT YOU
Author: Penelope Ward | Vi Keeland
Reading Level: New Adult
Genre: Contemporary Romance
Released: September 18, 2017
Review Source: InkSlingerPR
Dear Bridget,
I'm writing this letter because it's highly doubtful I'll ever garner the courage to say this to your face.
So, here goes.
We're totally wrong for each other. You're the proper single mum with a good head on your shoulders. I'm just the carefree British doctor passing through town and temporarily living in your converted garage until I head back to England.
But here's the thing… for some bloody reason, I can't stop thinking about you in very inappropriate ways.
I want you.
The only reason I'm even admitting all of this to you right now is because I don't believe it's one-sided. I notice your eyes when you look at me, too. And as crass as I appear when we're joking around about sex, my attraction to you is not a joke.
So, what's the purpose of this note? I guess it's a reminder that we're adults, that sex is healthy and natural, and that you can find me just through the door past the kitchen. More specifically, it's to let you know that I'm leaving said door cracked open from now on in case you'd like to visit me in the middle of the night sometime.
No questions asked.
Think about it.
Or don't.
Whatever you choose.
It's doubtful I'll even end up sliding this letter under your door anyway.
--Simon
I'm pretty much OBSESSED with this writing duo. Penelope Ward and Vi Keeland have done it again. They never disappoint me. Dear Bridget, I Want You was AMAZING. I went in completely blind, which is what I always do with their books because let's face it, I would read anything they wrote.
Bridget goes to the emergency room due to an issue in a compromising place and her doctor happens to be the sexiest, charming, funny doctor with a british accent. Bridget is a 34 year old widow leaving her to raise a little boy alone. She is a nurse and is determined to work hard to take care of them.
Simon, the sex on a stick Doctor that helps rescue Bridgets backside is the perfect hero for this story. I love how witty he is. I literally laughed out loud several times while reading this book. The chemistry is off the charts between these two.
I am rating this book 5 stars because it has earned my top favorite Penelope Ward and Vi Keeland book. That is extremely hard to do because I am obsessed with all of their books. I read this book in one sitting, I just could NOT put it down. Go one click this baby TODAY!!!
Author Penelope Ward
Facebook
Facebook Fan Group:
Website
Twitter
Instagram
@penelopewardauthor
Goodreads
Author Vi Keeland
Facebook Fan Group:
Facebook
Website
Twitter
@vikeeland
Instagram
@Vi_Keeland
Goodreads