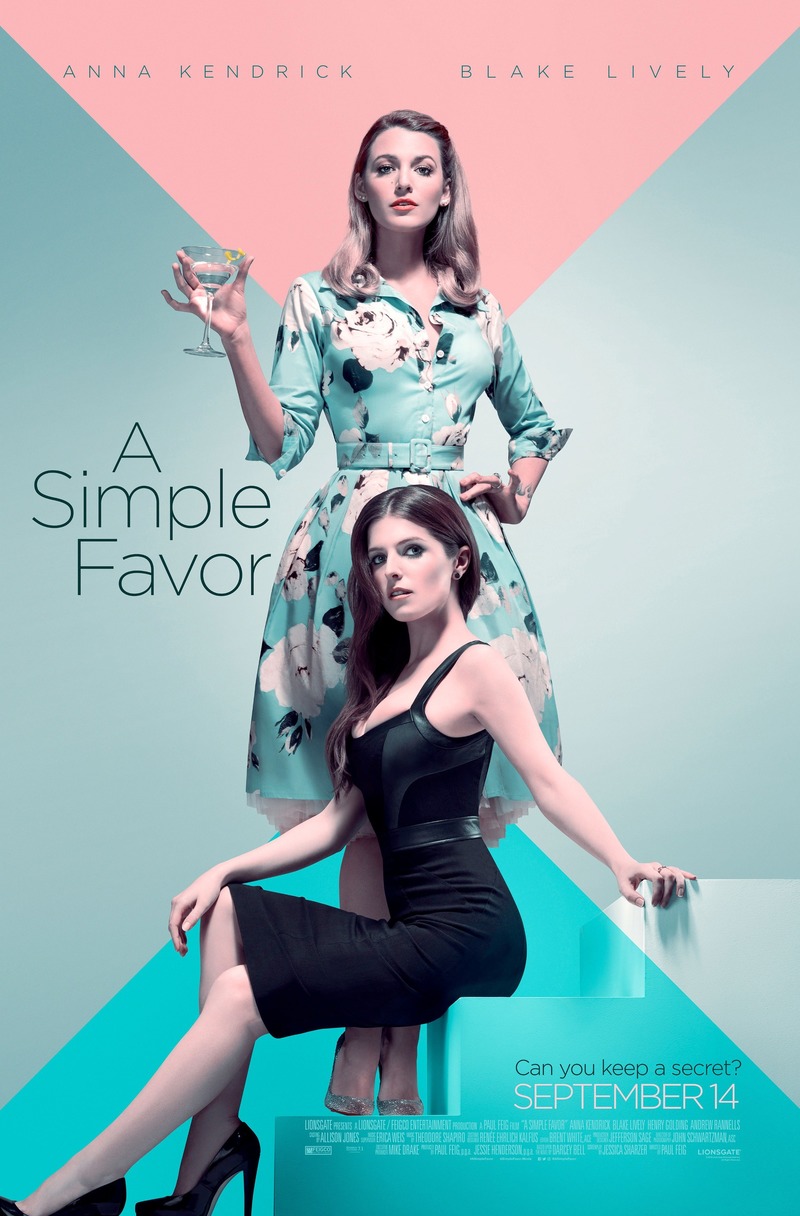 A Simple Favor
Director:
Paul Feig
Writers:
Jessica Sharzer (screenplay by), Darcey Bell (based upon the novel by)
Starring:
Anna Kendrick, Blake Lively, Henry Golding
MPAA Rating:
R
Official Socials:
Site
|
Facebook
|
Twitter
|
Instagram
|
IMDb
Hashtag
#ASimpleFavor
A SIMPLE FAVOR, directed by Paul Feig, centers around Stephanie (Anna Kendrick), a mommy blogger who seeks to uncover the truth behind her best friend Emily's (Blake Lively) sudden disappearance from their small town.
Every since I saw the trailer for this movie, I wanted to see it, so I was quite excited to be invited to go to a screening to do a review for you all. I've loved Anna Kendrick since the Twilight movies, but mostly, she is pretty, quirky, and dorky in real life, and I love it (because so am I). Blake Lively is just stunning to look at and also a good actress. The two of them together? I felt like it was perfection.
The director of the movie said in an interview that "A Simple Favor" is a thriller but with comedy, and he couldn't be more accurate. It's definitely a thriller and, if you've seen the trailer (if not, it's at the end of this review so you can watch it), you might agree with me that it reminded me a bit of "Gone Girl". As I watched the movie, it really confirmed it for me. Although, I admit I've never seen "Gone Girl", I've only read the book, but you get what I mean. They do have you guessing about how some Emily disappeared, how it all happened, and why. They also make it seem like there's something else going on we haven't realized yet. I loved having different theories and trying to figure everything out. I was only right about one of my theories. #EpicFail.
Let's talk a little bit about Anna Kendrick's character, Stephanie. I took my best friend with me to the screening and she told me halfway through the movie what I had been thinking since the beginning: Stephanie reminded her of me. I absolutely loved her character and she is definitely the comedic relief of the movie, but also the strongest and best character, in my humble opinion. She is also the one who has probably the best character development, and I love it when they underestimate a character and said character then surprises everyone. Really and truly loved Anna Kendrick in this movie, more than in any other one I've seen of her.
Blake Lively's character is also slightly unpredictable, and it's one of those personalities you aren't sure if you like her or not. But, I cannot deny she is interesting. And I absolutely loved her fashion sense and just how she portrayed this character overall. She was funny, sweet, cynical, loving, sexy, and smart all at once. It was fun to watch this, I am not going to lie. Also, I absolutely love her hair. Vain, I know, but I couldn't help admire it throughout the whole movie.
Another thing I really loved in the movie was the two little boys that play Emily and Stephanie's kids. They're so tiny, but so talented and adorable. They really did a great job and I look forward to their growing movie careers.
In conclusion, if you want to have fun with a movie, go see this one. I honestly had a great time watching it and I wouldn't mind watching it again. Hope you guys enjoy it as much as I did!