---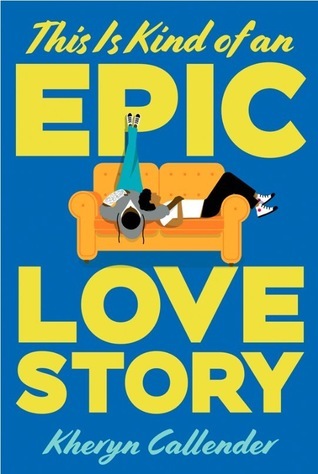 This is Kind of an Epic Love Story
Author: Kheryn Callender
Reading Level:
Genres: Contemporary Romance | LGBT
Released: October 30th 2018
Review Source: Balzer + Bray (HarperCollins)
A fresh, charming rom-com perfect for fans of Simon vs. the Homo Sapiens Agenda and Boy Meets Boy about Nathan Bird, who has sworn off happy endings but is sorely tested when his former best friend, Ollie, moves back to town.

Nathan Bird doesn't believe in happy endings. Although he's the ultimate film buff and an aspiring screenwriter, Nate's seen the demise of too many relationships to believe that happy endings exist in real life.

Playing it safe to avoid a broken heart has been his MO ever since his father died and left his mom to unravel—but this strategy is not without fault. His best-friend-turned-girlfriend-turned-best-friend-again, Florence, is set on making sure Nate finds someone else. And in a twist that is rom-com-worthy, someone does come along: Oliver James Hernández, his childhood best friend.

After a painful mix-up when they were little, Nate finally has the chance to tell Ollie the truth about his feelings. But can Nate find the courage to pursue his own happily ever after?
This is Kind of an Epic Love Story
is the cutest story. It's also a story you can knock out in 1-3 days of reading. It is a LGBT, but don't let that stop you from reading it, if you haven't read this type of genre before. The book is heavily based on its characters and their lives. At times you will get frustrated with them, but then you wanna hug them too. You do get sucked in to the story and that's the art of writing a good book by an author.
The story behind
This is Kind of an Epic Love Story
is not your typical easy romance, things are complicated. Nate, the main guy here, makes sure of that. He is done believing in "happy Ever After". That's BS for him. Of course, things never stay the same as one predicts. Nate will be tested and tried, but in the end, I think the outcome he earned. Sometimes, the best things in life are not easy to come by. This is why in life, you need a really strong support system to have on your side.
If your looking for a fun, romantic quick read, try
This is Kind of an Epic Love Story
!