So here is another series I have read called
Mortal Instruments
Author is :
Cassandra Clare
First book in the series is :
City of Bones
Pages: 496
My stars: 3.5 stars
This book started slow and ended a bit slow for me, but I figured it was the first in the series. So you are introduced to Clary and Jace. You start to understand the world of the Shadow Hunters. You have Werewolves, Vampires and Demons in this series.
Synopsis:
Their hidden world is about to be revealed....
When fifteen-year-old Clary Fray heads out to the Pandemonium Club in New York City, she hardly expects to witness a murder — much less a murder committed by three teenagers covered with strange tattoos and brandishing bizarre weapons. Clary knows she should call the police, but it's hard to explain a murder when the body disappears into thin air and the murderers are invisible to everyone but Clary.
Equally startled by her ability to see them, the murderers explain themselves as Shadow hunters: a secret tribe of warriors dedicated to ridding the earth of demons. Within twenty-four hours, Clary's mother disappears and Clary herself is almost killed by a grotesque demon. But why would demons be interested in ordinary mundanes like Clary and her mother? And how did Clary suddenly get the Sight? The Shadow hunters would like to know....
Second book in the series is:
City of Ashes
This book pick it up for me, it still was missing something but much faster paced from the first one. Clare gives us good action in this book. We con't to learn more about Clary and Jace and Simon. So in this one you get to read about Magic and many struggles. You will get surprises here and there.
Synopsis
Welcome back to the exotic world beyond the shadows...
Clary Fray just wishes that her life would go back to normal. But what's normal when you're a demon-slaying Shadowhunter, your mother is in a magically induced coma, and you can suddenly see Downworlders like werewolves, vampires, and faeries? If Clary left the world of the Shadowhunters behind, it would mean more time with her best friend, Simon, who's becoming more than a friend. But the Shadowhunting world isn't ready to let her go — especially her handsome, infuriating, newfound brother, Jace. And Clary's only chance to help her mother is to track down rogue Shadowhunter Valentine, who is probably insane, certainly evil — and also her father.
To complicate matters, someone in New York City is murdering Downworlder children. Is Valentine behind the killings — and if he is, what is he trying to do? When the second of the Mortal Instruments, the Soul-Sword, is stolen, the terrifying Inquisitor arrives to investigate and zooms right in on Jace.How can Clary stop Valentine if Jace is willing to betray everything he believes in to help their father?
In this breathtaking sequel to
City of Bones
, Cassandra Clare lures her readers back into the dark grip of New York City's Downworld, where love is never safe and power becomes the deadliest temptation.
Third book in the series is:
City of Glass
Now this third book finally sucked me in completely. I could not put it down. We have Clary trying to save her mother's life and she must travel to the City of Glass, the home of the Shadow Hunters. She learns so much more about her life. So if you have not read this series , you will want to.
Synopsis
To save her mother's life, Clary must travel to the City of Glass, the ancestral home of the Shadowhunters -- never mind that enter-ing the city without permission is against the Law, and breaking the Law could mean death. To make things worse, she learns that Jace does not want her there, and Simon has been thrown in prison by the Shadowhunters, who are deeply suspicious of a vampire who can withstand sunlight.
As Clary uncovers more about her family's past, she finds an ally in mysterious Shadow-hunter Sebastian. With Valentine mustering the full force of his power to destroy all Shadow-hunters forever, their only chance to defeat him is to fight alongside their eternal enemies. But can
Downworlders
and
Shadowhunters
put aside their hatred to work together? While
Jace
realizes exactly how much he's willing to risk for Clary, can she harness her
newfound
powers to help save the Glass City -- whatever the cost?
Love is a mortal sin and the secrets of the past prove deadly as Clary and
Jace
face down Valentine in the final installment of the
New York Times
bestselling trilogy The Mortal Instruments.
The Fourth book in the series is:
City of Fallen Angels
Worldwide release is March 2011
The Author states in her website, that you will want to read her Pre-quel series first before reading City of the Fallen Angels. She mentions the characters will be in both books.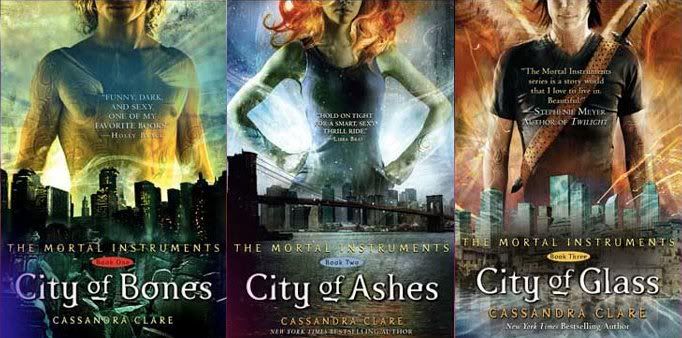 First book in the series is called

:

Clockwork Angel
Book release is: 08/31/2010
Synopsis
Magic is dangerous—but love is more dangerous still.
When sixteen-year-old Tessa Gray crosses the ocean to find her brother, her destination is England, the time is the reign of Queen Victoria, and something terrifying is waiting for her in London's Downworld, where vampires, warlocks and other supernatural folk stalk the gaslit streets. Only the Shadowhunters, warriors dedicated to ridding the world of demons, keep order amidst the chaos.
Kidnapped by the mysterious Dark Sisters, members of a secret organization called The Pandemonium Club, Tessa soon learns that she herself is a Downworlder with a rare ability: the power to transform, at will, into another person. What's more, the Magister, the shadowy figure who runs the Club, will stop at nothing to claim Tessa's power for his own.
Friendless and hunted, Tessa takes refuge with the Shadowhunters of the London Institute, who swear to find her brother if she will use her power to help them. She soon finds herself fascinated by—and torn between—two best friends: James, whose fragile beauty hides a deadly secret, and blue-eyed Will, whose caustic wit and volatile moods keep everyone in his life at arm's length . . . everyone, that is, but Tessa. As their search draws them deep into the heart of an arcane plot that threatens to destroy the Shadowhunters, Tessa realizes that she may need to choose between saving her brother and helping her new friends save the world. . . . and that love may be the most dangerous magic of all.