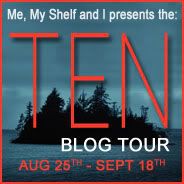 Welcome to the our first stop during the Ten Blog Tour for Gretchen McNeil. The tour is hosted by
Me, My Shelf and I blog
. The blog tour runs from August 25th - September 18th. Today's stop we have for you all an interview with Meg. Then come back on September 5th to read our review for Ten. Follow the full tour schedule
HERE
.
Author Bio: Singer ~ Writer ~ Clown
I write. Scary stuff, mostly. My YA horror/paranormal POSSESS debuted with Balzer and Bray for HarperCollins in 2011. My second novel, TEN – YA horror/suspense about ten teens trapped on an island with a serial killer – will be released September 18, 2012, also from Balzer and Bray.
I'm a former coloratura soprano, the voice of Mary on G4's Code Monkeys and I currently sing with the LA-based circus troupe Cirque Berzerk. I'm a founding member of vlog group theYARebels where I can be seen as "Monday" and an active member of both The Enchanted Inkpot, a group blog of YA and middle grade fantasy writers, and The Apocalypsies, a group blog of 2012 children's book debuts.
---
Q&A with Meg:
OUaT: Welcome Meg to OUaT. We are glad you are able to answer these questions for us today. Tell us a little bit about yourself?

Thanks for having me! My name is Megan Pritchard, Meg to my friends. I'm a senior at Kamiak High School in Mulkiteo, just outside Seattle. My parents moved there from Manhattan when I was in junior high and the transition was…interesting.

OUaT: Henry Island, is this a place we all should visit or stay very far away from?

Well, it's beautiful, in a stark, far from the madding crowd kind of way. Only the richest of the rich can afford a house there since they need their own boat to get there. So how could I turn down an invitation to a party there?

OUaT: When you went to this weekend party, did you expect to resolve matters with T.J.?

When I went to the party, there were no matters with T.J. Just a friend. Nothing more. And if I thought if I kept repeating that to myself, I might believe it.

OUaT: At any time during your friendship with Minnie, did you ever think something could be serially wrong with her?

Not seriously. I mean, she's always been a little high strung, a little sensitive. She's done so much better since her doctor put her on the anti-depressants and anti-anxiety medications. When she takes them, that is.

OUaT: Can you tell us what was the worst part when you viewed the DVD once you were at the house on the island?

You mean aside from the fact that there were no other DVDs in the entire house? Just this one, creepy homemade disc? Yeah, that was scary enough right there.

OUaT: Any friendship advice you recently learned, you like to share with us?

Self-sacrifice can be a blessing and a curse. There's a fine line between looking out for your friends and sacrificing your happiness for theirs.

OUaT: How does it feel to have a boyfriend now?

It feels like I can't stop smiling.

OUaT: Name 5 of the scariest or creepiest places you might know or heard of?

The Paris Catacombs (walls of bones? *shudder*)
The Stanley Hotel (yeah, have you SEEN The Shining?)
Aokigahara Forest (500 suicides? Yikes)
Six Flags New Orleans (abandoned amusement park FTW)
Spain's Secret Abandoned Doll Factory (Google it. You'll thank me.)

OUaT: What books would you recommend reading?

Have you read Agatha Christie's And Then There Were None? I hear it's pretty awesome.

OUaT: What are your plans in the near future?

Thankfully, I'm getting out of Mulkiteo in the Fall. I'll be a freshman at UCLA in the creative writing program!
---
Ten
Author: Gretchen McNeil
Reading Level: YA
Genre: Mystery/Horror/Thriller
Release Date: September 18th 2012
Publisher: Balzer + Bray
Available:
Amazon
•
Barnes & Noble
Summary: (from goodreads)And their doom comes swiftly.

It was supposed to be the weekend of their lives—an exclusive house party on Henry Island. Best friends Meg and Minnie each have their reasons for being there (which involve T.J., the school's most eligible bachelor) and look forward to three glorious days of boys, booze and fun-filled luxury.

But what they expect is definitely not what they get, and what starts out as fun turns dark and twisted after the discovery of a DVD with a sinister message: Vengeance is mine.

Suddenly people are dying, and with a storm raging, the teens are cut off from the outside world. No electricity, no phones, no Internet, and a ferry that isn't scheduled to return for two days. As the deaths become more violent and the teens turn on each other, can Meg find the killer before more people die? Or is the killer closer to her than she could ever imagine?
More book from Gretchen McNeil:
Possess
•
Two and Twenty Dark Tales: Dark Retellings of Mother Goose Rhymes
•
Dear Teen Me: Authors Write Letters to Their Teen Selves