Welcome to our stop during the Month9Books Birthday Bash! The full schedule is below and make sure to stick around for the EPIC Giveaway taking place!
Here's a quick note from Georgia McBride, owner of Month9Books!
"Month9Books is turning 2 this year and I could not be happier. We are living proof that if you have a dream to write, create and inspire, you should follow that dream and let nothing keep you from realizing it. Thank you to all the readers, writers, agents, partners and friends who have made this possible. We write for you. --Georgia McBride, Publisher and Owner of Month9Books"
---
We have a ton of sequels coming as well as new books from awesome debut authors and we're so excited to share them all with you! We have something for everyone from every genre from Sci-Fi to Fantasy to Paranormal and Horror!
---
Here at OUaT, we are thrilled to host Branded authors Abi Ketner & Missy Kalicicki. They created a special Halloween in the Hole post for you all to enjoy.
---
Halloween in the Hole
by Abi Ketner & Missy Kalicicki
You'd think in a place like the Hole, Halloween would be a no-brainer, right? I mean lets face it, the Hole could be Halloween every night. There is no shortage of thugs, horrors, and more tricks than treats. But we forget something important: the Commander.

The Commander isn't a fan of Halloween. He says it promotes the seven deadly sins, especially gluttony and lust, and forbids anyone to celebrate it. And since he's the biggest monster we know, why dress up and pretend to be him?

Now, the parents old enough to remember the excitement of Halloween find other ways to celebrate. In hushed tones, they sit around fires they've build to keep warm, regaling their children with their favorite tales. Huddled close together, they watch as their whispered words light up the eyes of the children they hope will carry on their traditions.

But the difference in many of these stories is the heroes usually win over the terrible demons. The good always triumphs over the evil, and the children are left desiring the hero, the one who slays monsters like the Commander, climbs walls like the Hole, and brings joy to everyone.

While in the Hole, the monster still lives on, in their hearts, they're free. Yes, Halloween in the Hole is a night of hope, not a night of fear, for one day they hope to rise against the monster who keeps them caged there. That one day the monster will be defeated and somehow their society can be saved.

Yes, the Commander has more than one reason to fear Halloween in the Hole.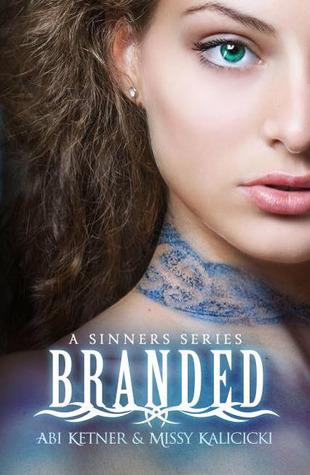 BRANDED (Sinners #1)
Author: Abi Ketner & Missy Kalicicki
Release Date: August 19, 2014
Pages: 380
Publisher: Month9Books
Formats: Paperback, eBook
Fifty years ago The Commander came into power and murdered all who opposed him. In his warped mind, the seven deadly sins were the downfall of society.

To punish the guilty, he created the Hole, a place where sinners are branded according to their sins. Sinners are forced to live a less than human existence in deplorable conditions, under the watchful eye of guards who are ready to kill anyone who steps out of line.

Now, LUST wraps around my neck like thick, blue fingers, threatening to choke the life out of me. I've been accused of a crime I didn't commit, and the Hole is my new home.

Constant darkness.

Brutal and savage violence.

Excruciating pain.

Every day is a fight for survival.

But I won't let them win. I will not die in the Hole.

I am more than my brand. I'm a fighter. My name is Lexi Hamilton, and this is my story.
About Abi and Missy:
Abi Ketner is a registered nurse with a passion for novels, the beaches of St. John, and her Philadelphia Phillies. A talented singer, Abi loves to go running and spend lots of time with her family. She currently resides in Lancaster, Pennsylvania with her husband, triplet daughters and two very spoiled dogs.
Missy Kalicicki has her degree in History from Millersville University. She's enjoyed working in several different fields from alternative fuels to health care. She's happily married with two rambunctious boys and two dogs, Buckwheat and Spanky. Her passions include writing, running races, kickboxing, traveling, and trying new things. She remains an avid Cleveland sports fan despite the last twenty years.
Meet the Authors and amazing host Blogs!
All posts will be live on October 31st!