Today we are excited to share this blitz for DIRTY ROWDY THING that hits book stores tomorrow!
---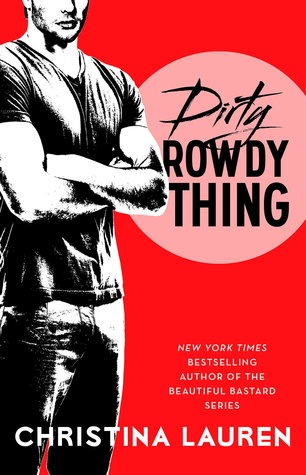 Dirty Rowdy Thing
Wild Seasons #2
Reading Level: New Adult
Genre: Contemporary Romance
Release Date: November 4th 2014
Publisher: Gallery Books
From the New York Times bestselling author of Beautiful Bastard, Beautiful Stranger, and Beautiful Player, Book Two of the brand-new Wild Seasons series that started with Sweet Filthy Boy—a story of friends, love, and lust.

Despite their rowdy hookups, Harlow and Finn don't even like each other...which would explain why their marriage lasted only twelve hours. He needs to be in charge and takes whatever he wants. She lives by the Want-something-done? Do-it-yourself mantra. Maybe she's too similar to the rugged fisherman—or just what he needs.
––You can check out OUaT's reviews of
Dirty Rowdy Thing
and
Sweet Filthy Boy
by clicking on the title.
---
Playlist from Christina Lauren
Christina doesn't usually write to music; she likes it quiet. I sometimes imagine her vacuum-sealed in a little box, alone with her Mac, typing away (her hair is perfect in this scenario, of course). I like having a single song that I associate with the characters and which I listen to over and over until it becomes background noise and only a feeling anymore. This works great for me: I send my kids off to school in the morning and then sit down to write; I put on the song and am immediately transported into writing mode. If you are writing and ever have a hard time transitioning from life into drafting or editing, give this trick a try. You're creating associations between the hearing the song and entering a creative state of mind.
The song I listened to over and over while we were drafting
Sweet Filthy Boy
is
Give Me Love
by Ed Sheeran. But while I would think about the book and brainstorm, I would listen to
Cable TV
by Fol Chen. If there is one song that totally captures Ansel and Mia, it's that. The sound, words...it all feels so right for them.
For
Dirty Rowdy Thing
, the song I looped again and again was
Bruises
by Chairlift. But the song that best captures my brainstorming process was
R U Mine
by Arctic Monkeys. The rock vibe and uncertainty in the lyrics felt so perfectly combative Harlow & Finn.
Other songs that I had on my Finn/Harlow brainstorm list:
---
Thanks to Gallery Books we have 2 sets of Wild Season series which include Sweet Filthy Boy and Dirty Rowdy Thing to award our readers. Enter below and make sure to read the terms and conditions.