---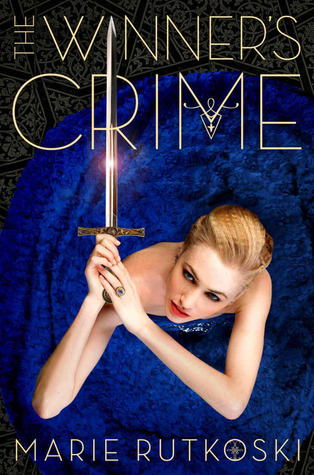 The Winner's Crime
The Winner's Trilogy #2
Author:
Marie Rutkoski
Reading Level: Young Adult
Genre: Fantasy
Released: March 3rd 2015
Publisher: Farrar Straus Giroux
Book two of the dazzling Winner's Trilogy is a fight to the death as Kestrel risks betrayal of country for love.

The engagement of Lady Kestrel to Valoria's crown prince means one celebration after another. But to Kestrel it means living in a cage of her own making. As the wedding approaches, she aches to tell Arin the truth about her engagement…if she could only trust him. Yet can she even trust herself? For—unknown to Arin—Kestrel is becoming a skilled practitioner of deceit: an anonymous spy passing information to Herran, and close to uncovering a shocking secret.

As Arin enlists dangerous allies in the struggle to keep his country's freedom, he can't fight the suspicion that Kestrel knows more than she shows. In the end, it might not be a dagger in the dark that cuts him open, but the truth. And when that happens, Kestrel and Arin learn just how much their crimes will cost them.
CHAPTERS 21-34
Alright, these chapters had me scared, had my heart break, and definitely had me on the edge of my seat. I'm so ready to finally see where everything is going to turn.
Arin makes a huge decision
Kestrel makes a huge decision, actually a bunch of them.
Secrets are best kept if one is dead (hasn't Pretty Little Liars taught us anything)
Kestrel really brings her A game in this book
---
"I'm glad to see you go," Risha said. "You don't belong here. People who don't belong pay for it."


---
"I don't mind being a moth. I would probably start eating silk if that meant I could fly."
---
And then we uncover secrets about a certain bet on a certain person's wedding dress.
---
Dear Emperor...
Seriously, I hate you. I hate you so much.
"He doesn't like weaklings. But he loves to discover a weakness."
---
---
a Rafflecopter giveaway