---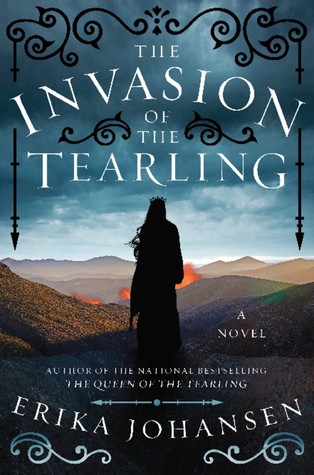 The Invasion of the Tearling
The Queen of the Tearling #2
Author: Erika Johansen
Reading Level: New Adult
Genre: Dystopia
Released: June 9th 2015
Review Source: Harper
With each passing day, Kelsea Glynn is growing into her new responsibilities as Queen of the Tearling. By stopping the shipments of slaves to the neighboring kingdom of Mortmesne, she crossed the Red Queen, a brutal ruler whose power derives from dark magic, who is sending her fearsome army into the Tearling to take what is hers. And nothing can stop the invasion.

But as the Mort army draws ever closer, Kelsea develops a mysterious connection to a time before the Crossing, and she finds herself relying on a strange and possibly dangerous ally: a woman named Lily, fighting for her life in a world where being female can feel like a crime. The fate of the Tearling —and that of Kelsea's own soul—may rest with Lily and her story, but Kelsea may not have enough time to find out.
First of all, can we talk about the cover? This cover of The Invasion of the Tearling speaks for itself. Look at it! There is a queen over-looking at a place that is burning. If you've read the first book, then you know there is an invasion the new queen of the tearling needs to prepare for. If you think about it, it seems that the invasion has occurred but unfortunately this queen has fled. That is why she is overlooking at this place that is burning. It may also be that this queen has invaded a place and has left it to burn? Yes? Well you will have to read the book to find out what it means.
If you've read my review for the first novel of this series, The Queen of the Tearling, then you know I'd enjoyed it to pieces. Unlike the first novel, once I read the last page to this novel, well, I was rather not quite sure how to process what I had just read. The Invasion of the Tearling has taken a strange turn, so prepare to be surprised.
As I mentioned before, the first book left off right when the new queen needs to come up with ways to be prepare of an invasion. Kelsea is this new queen. She is trying to come up with ways to defeat the Mort Army. Unfortunately, her new army is not well equipped for this. The only thing that is going right for Kelsea is that she has been able to slow down the Mort. Everything else is out of control. Kelsea is even being disturbed by an evil power that is not letting her do much. To say the least, Kelsea is not only fighting for her kingdom, but she is fighting for control over herself. She is having dreams of a woman named Lily Mayhew - a woman married to an important man but is also abused.
Lily Mayhew? Well, we are not told why she is important. We are not sure what's the reason behind Kelsea's dreams about her. It was rather strange having to read about her. About her life. Not sure where her story is leading to. Not sure if Kelsea's dreams will help her conquer the fight against the Mort and the evil Red Queen. Like her story, this book will leave you with thousand of unanswered questions.
Overall, The Invasion of the Tearling is rather a slow torturous adventure. One that will leave you with many questions. It is also quite graphical. There is so many sensitive topics, like rape, assaults and well, blood-and-violence, language… Although its horrifying, I cannot wait to learn more about Kelsea and her mystery father. I would like to know if she will be able to conquer the Mort and the Red Queen. I just need to know.