---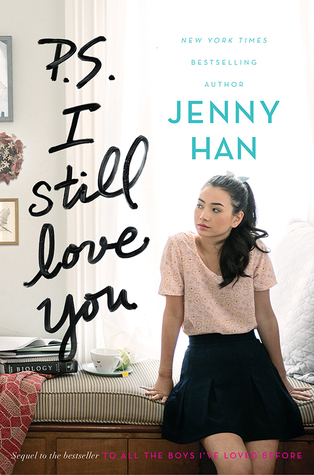 P.S. I Still Love You
To All the Boys I've Loved Before #2
Author:
Jenny Han
Reading Level: Young Adult
Genre: Contemporary | Romance
Released: May 26th 2015
Review Source: Purchased
Lara Jean didn't expect to really fall for Peter. She and Peter were just pretending. Except suddenly they weren't. Now Lara Jean is more confused than ever. When another boy from her past returns to her life, Lara Jean's feelings for him return too. Can a girl be in love with two boys at once?

In this charming and heartfelt sequel to the New York Times bestseller To All the Boys I've Loved Before, we see first love through the eyes of the unforgettable Lara Jean. Love is never easy, but maybe that's part of what makes it so amazing.
Cover:
I absolutely adore the cover to PS I Still Love You, just as much as I loved To All The Boys I've Loved Before. I love seeing what would be Lara Jean's room and her hair in those cute hairdos she's always talking about. The covers feel personal, getting a glimpse into our fictional characters life, they're perfect.
Action
:
Well this isn't an action book, BUT Peter did take some action towards a certain situation, and well that was perfect for him to do.
Romance:
Lara Jean is a sucker for romance. Everything started after her younger sister, Kitty, had mailed her secret love letters she would write towards the boys she would fall for. One thing led to another and a fake relationship with Peter, a recipient of the lover letters, became something real. Then another past crush comes into the picture and things get muffled. Those boys may be young, but they really know how to say the right things sometimes. *
Swooning Shannon
*
Something I loved:
I love that Lara Jean sticks to her guns, she may fall in love a lot, but she is never willing to just hand her heart completely over, which sometimes gets her in a pickle. She's guarded and tough, and completely in love with love. Though my absolute favorite thing from these books is Kitty (sorry Lara Jean, I do really love you). She's witty, conniving, way too smart for her again, and has excellent taste in television shows.
Favorite Quote:
"Sometimes I like you so much I can't stand it. It fills up inside me, all the way to the brim, and I feel like I could overflow. I like you so much I don't know what to do with it. My heart beats so fast when I know I'm going to see you again. And then, when you look at me the way you do, I feel like the luckiest girl in the world."