There have been quite a few cover reveals in the bookish world lately. Here are a few that stand out to us.
---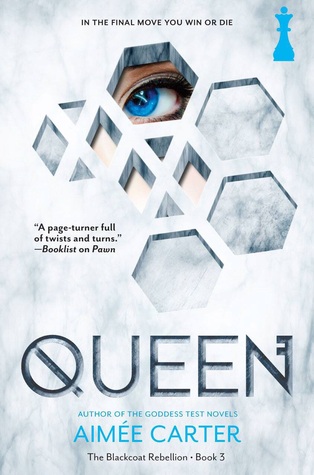 Queen
The Blackcoat Rebellion #3
Author: Aimee Carter
Release Date: November 24th 2015
Publisher: Harlequin Teen
PAWN...CAPTIVE...QUEEN?

Kitty Doe is a Blackcoat rebel and a former captive with a deadly connection to the most powerful and dangerous man in the country, Prime Minister Daxton Hart. Forced to masquerade as Daxton's niece, Lila Hart, Kitty has helped the Blackcoats take back the prison known as Elsewhere. But Daxton has no intention of ceding his position of privilege—or letting Kitty expose his own masquerade. Not in these United States, where each person's rank means the difference between luxury and poverty, freedom and fear...and ultimately, between life and death.

To defeat the corrupt government, Kitty must expose Daxton's secret. Securing evidence will put others in jeopardy, including the boy she's loved forever and an ally she barely trusts. For months, Kitty's survival has hinged on playing a part. Now she must discover who she truly wants to be, and whether the new world she and the rebels are striving to create has a place in it for her after all.
---
Walk the Edge
Thunder Road #2
Author: Katie McGarry
Release Date: March 30th 2016
Publisher: Harlequin TEEN
Excerpt
There are certain common-sense rules all girls in town comprehend. It's not knowledge that has to be taught. In fact, sitting here on the top step to the entrance of my high school and watching this potential disaster unfold, I search my memory for the first person who mentioned I should stay clear of the Reign of Terror Motorcycle Club.

Because when it pertains to the threat that is the Reign of Terror MC, it's not learned, it's known. Like how an infant understands how to suck in a breath at the moment of birth or how a newborn foal wobbles to his legs. It's instinctual. It's ingrained. It's fact.

"Do you think his motorcycle will work this time?" Addison asks.

"Hope so," I breathe out, too terrified to speak at a normal level out of fear that we'll draw the scrutiny of the men wearing black leather vests circling the broken-down bike. Reign of Terror arches over the top of the black vest; in the middle is a half skull with far too much fire in and around it. It's ominous and I shiver.

It's edging toward nine in the evening, but the August sun hasn't completely set. Darkness, though, has claimed most of the sky. Temperatures during the afternoon hit over a hundred and I swear the concrete stairs and pillar absorbed every ounce of today's sunshine and are now transferring the heat onto my body.

Sweat rolls down my back and I shift to peel my thighs off the step. Why I thought it was a fantastic idea to wear a jean skirt, I have no idea.

I take that back. I do have an idea. Tonight is the first time my entire grade has been together in one room since the end of last year. My goal for the year may seem simple to some, but to me, it sometimes feels impossible. I'd like to be seen, to be known as something more than "freakishly smart Breanna Miller" at least once before I leave this town. I'd like to somehow find the courage to be on the outside who I am on the inside.

An annoying sixth sense informs me that I'm about to make a huge impression—on the evening news. Two friends on the verge of starting their senior year vanish without a trace. Because that's how motorcycle clubs would handle this—they'll kidnap us and then hide our bodies after they're finished with whatever ritual act they'll use us to perform.

One of the gang members stands from his crouched position at the motorcycle and the guy we attend school with inserts a key and holds on to the handlebar of the bike. As he twists it, I pray the motor will purr to life.

My heart leaps, then plummets past my toes and into the ground when the motorcycle cuts off with a sound similar to a gunshot. Addison's head falls forward, and I bite my lip to prevent the internal screaming from becoming external chaos.

Addison pulls her phone out of her purse and taps the screen. "I'm texting Reagan. If we go missing, I'm telling her to point the finger at Thomas Turner and his band of Merry Men."

Thomas Turner. He's the guy that swore loudly the moment his motorcycle's engine died again. Thomas is the name called on the first day of school by our teachers, but it's not the name he responds to. He goes by his "road name," Razor.

He glances over his shoulder straight at me and my mouth dries out. Holy hell, it's like he's aware I'm thinking of him.

"Oh my God," Addison reprimands. "Don't make eye contact. Do you want them to come over?"

I immediately focus on my sandals. As much as every girl knows to keep a safe distance from Thomas and his crew, we've all snuck a glimpse. Thomas makes it easy to cave to temptation with his golden blond hair and muscles from head to toe, and he owns this sexy brooding expression a few girls have written about in poems.

My cheeks burn and there's this heaviness as if Thomas is still looking. Through lowered lashes, I peek at him and my heart trips when our eyes meet. His eyes are blue. An icy blue. His stare causes me to be simultaneously curious and terrified. And I obviously have a death wish because I can't tear my gaze away…
---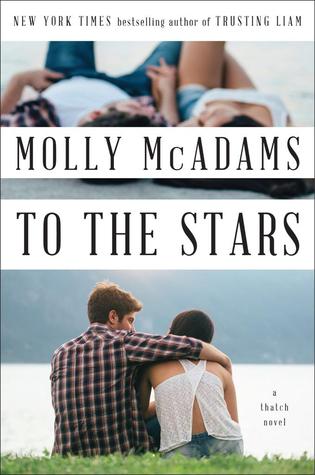 To the Stars: A Thatch Novel
Thatch #2
Author: Molly McAdams
Release Date: November 17th 2015
Publisher: William Morrow Paperbacks
In the second book in New York Times and USA Today bestselling author Molly McAdams' Thatch series, Knox Alexander must convince his long-time love Harlow Evans that they're meant to be together.

He promised to wait for her.
She told him he was wasting his time.
Not waiting for him ended up being the biggest mistake of her life.

When they were younger, Knox Alexander swore to Harlow Evans that he would wait for her to turn eighteen so they could be together. But that was three and a half years away, and Harlow couldn't ask him to give up all the fun and thrills of going away to college for her. As the years passed, Knox remained a constant in her life—whether she liked it or not—but when her eighteenth birthday came around, Harlow's heart belonged to someone else.

Every day for the last four years, Harlow has been haunted by that fateful choice. And though he may appear unaffected by what happened in their past, Knox has always tried to fill the void Harlow left. But when he comes stumbling back into her life and refuses to leave, will Harlow finally let him into her heart…?
---
Wicked Sexy Liar
Wild Seasons #4
Author: Christina Lauren
Release Date: February 2016
Publisher: Gallery Books
Excerpt
A throat clears behind me and I turn, finding myself now only a foot away from the eyes that were all the way across the bar only seconds before.

"What can I get you?" I ask, and it's polite enough, delivered with what I know to be a friendly-but-professional smile. His eyes narrow and even though I don't track them moving down my body in any perceptible way, I get the feeling he's already checked me out, made up his mind and filed me away in the same way all men categorize women: Doable, or not. From my experience, there isn't a whole lot of in between.

"Can I get another round, please?" he says, and motions vaguely over his shoulder. His phone vibrates in his hand and he glances down at it, tapping out a quick message before returning his attention to me.

I pull out a tray. I don't know what they'd ordered since Fred brought them their first round, but I can easily guess.

"Heineken?" I ask.

His eyes narrow in playful insult, and it makes me laugh.

"Okay, not Heineken," I say, holding up my hands in apology. "What were you drinking?"

Now that I really look, he's even prettier up close: brown eyes framed with the kind of lashes mascara companies charge a fortune for and dark hair that looks so soft and thick I just know it would feel amazing to dig my fingers—

But I assume he knows this, and the confidence I noticed from across the room, practically saturates the air. His phone buzzes again, but he gives it only the briefest glance down and silences it. "Why would you assume Heineken?" he asks.

I stack a handful of coasters on the tray and shrug again, trying to nip the conversation in the bud. "No reason."

He's not buying it. The corner of his mouth turns up a little, and he says, "Come on, Dimples."

At almost the same time, I hear Fred's, "Dammit," and hold out my hand, ready when he slaps a crisp dollar bill into it. I smugly tuck it into the jar.

The guy follows my movement and blinks back up at me. "'Car Fund?'" he asks, reading the label. "What's that about?"

"It's nothing," I tell him and then wave to the line of draft beers. "What were you guys drinking?"

"You just made a buck off of something I said and you're not even going to tell me what it was?"

I tuck a loose strand of hair behind my ear and give in when I realize he isn't going to order until I've answered him. "It's just something I hear a lot," I say. In fact, it's probably something I've heard more than my own name. Deep dimples dent each of my cheeks, and I'd be lying if I didn't say they're at once my most and least favorite feature.

"Fred didn't believe it happens as often as I said," I continue, jerking my thumb over my shoulder. "So we made a little bet: A dollar every time someone calls me Dimples, or references said dimples. I'm going to buy a car."

"Next week at this rate," Fred complains from somewhere behind me.

Dudebro's phone chirps again, but this time he doesn't check it, doesn't even look down. Instead he tucks it into the back pocket of his jeans, glances from Fred to me again, and grins.

And I might actually need a moment.

If I thought this guy was pretty before, it has nothing on the way his entire face changes when he smiles. A light has been switched on behind his eyes, and every trace of arrogance seems to just . . . evaporate. His skin is clear and tan and women must ask what kind of highlighter he uses because it practically glows, a warmth that seems to radiate out, coloring his cheeks. The sharpness of his features soften; his eyes crinkle a little at the corners. I know it's just a smile but it's like I can't decide which part I like more, the full lips, white, perfect teeth, or how one side of his mouth lifts just a fraction higher than the other. He makes me want to smile back.

He spins a coaster on the bar top in front of him, and continues to grin up at me. "So you're calling me unoriginal," he says.

"I'm not calling you anything," I tell him, matching his grin. "But I appreciate that it seems to be true, because I am raking in the cash."

He considers my cheeks for a moment. "They are pretty great dimples. I can imagine a lot of worse things to be known for. Nobody calling you Peg Leg or the Bearded Lady."

No way is this guy trying to be cute.
---
Missing Dixie
Neon Dreams #3
Author: Caisey Quinn
Release Date: October 27th 2015
Publisher: William Morrow Paperbacks
Fighting for redemption…

I've lived most of my life in darkness, beneath the shadows of secrets and addictions. The last thing I ever wanted to do was hurt the only girl I'd ever loved-the one who brought me into the light. In my entire life I'd made one promise-a promise I'd intended to keep. I've broken that promise and now I have to live with the fallout. Dixie Lark hates me, and I have to tell her that I love her. I also have to tell her a truth that might destroy us forever.

Can she love me even if she can't forgive me?

Learning to move on…

Gavin Garrison broke his promise to my brother and he broke my heart in the process. I may never love anyone the way I've loved him, but at least I won't spend my life wondering what if. We had our one night and he walked away. I'm finally beginning to move on when my brother's wedding and a battle of the bands brings us back together.

Our band is getting a second chance, but I don't know if I can give him one. How do you hand your heart back to the person who set it on fire once already?
a Rafflecopter giveaway