Welcome to our stop on The Dark Days Club tour for Alison Goodman. This tour is hosted by
PenguinTeen
.
---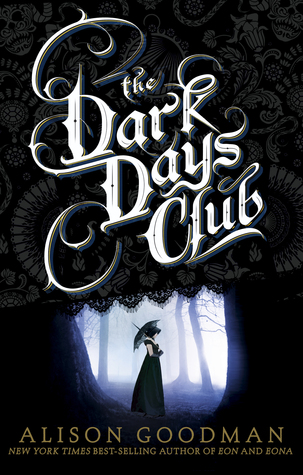 The Dark Days Club
Lady Helen #1
Author: Alison Goodman
Reading Level: Young Adult
Genre: Historical Fiction
Release Date: January 26th 2016
Review Source: Viking Books for Young Readers
New York Times bestseller Alison Goodman's eagerly awaited new project: a Regency adventure starring a stylish and intrepid demon-hunter!

London, April 1812. On the eve of eighteen-year-old Lady Helen Wrexhall's presentation to the queen, one of her family's housemaids disappears-and Helen is drawn into the shadows of Regency London. There, she meets Lord Carlston, one of the few who can stop the perpetrators: a cabal of demons infiltrating every level of society. Dare she ask for his help, when his reputation is almost as black as his lingering eyes? And will her intelligence and headstrong curiosity wind up leading them into a death trap?
---
THE DARK DAYS CLUB Book Playlist
The Dark Days Club is set in the Regency in 1812. If I did an actual playlist from that era it would be full of jigs and Beethoven and Handel, which is not a bad thing… but not everyone's cup of tea. So here is a more modern musical playlist for The Dark Days Club, with a short side trip to the Regency in the form of an English country-dance.
The Clash – London Calling
The Dark Days Club is set in London, a city that was glorious and grungy in 1812 and was still glorious and grungy in 1979 when The Clash recorded this song. Come to think of it, I was there late last year and nothing has changed–London will always be glorious and grungy!

The Verve – Bittersweet Symphony
One of my all time favorite songs, and any playlist I create for this book will include it because it resonates so much for me. Lady Helen's life has already been mapped out for her by her family and society, but she longs for something more. For me, Bittersweet Symphony is about how hard it is to change, especially when you are already on a particular path. The violin intro to this song always sends chills down my spine, and the video clip is brilliant.
Avicii –– Wake Me Up
A song about finding yourself and your people.

Bill Withers – Lean On Me
The original of this beautiful song. I've put it in the playlist to signify Helen's growing friendship with her maid Darby. It's also here because it is one of my personal favorites, and my gorgeous nieces sang it at my wedding (Awww!).

John Butler Trio – Mystery Man
The enigmatic Lord Carlston arrives on the scene.

Madison Avenue – Don't Call Me Baby
Helen and Lord Carlston do not really hit it off.

Evanescence - Bring Me To Life
Helen discovers unexpected talents.

English Country Dancing – Sir Roger de Coverley
This clip is from the Jane Austen Ball in 2012 and shows the finishing dance called Sir Roger de Coverley, which was usually danced at the end of a ball (when everyone was a bit tipsy from the very alcoholic punch). It is one of my favorite dances and one that I teach.

Foo Fighters – The Pretender
Helen is not sure if she can trust Lord Carlston or not. Is he a pretender?

Queen – Another One Bites The Dust
No playlist of mine is complete without a bit of Queen. Things are getting a lot more dangerous for Helen.

Phil Collins – In The Air Tonight
While the lyrics of In The Air Tonight are more about revenge (not part of The Dark Days Club story), the driving sense of menace and foreboding in this song are perfect for Helen's predicament as she faces a huge decision. Brilliant drum break too.

Natalie Imbruglia – Torn
Great song from a fellow Aussie. For Helen, hard decisions must be made.

Shirley Bassey – This is my Life
Something to remember when facing a dangerous dilemma.

Rachel Platten – Fight Song
Helen must dig deep to find the strength she needs.

Credence Clearwater Revival – Bad Moon Rising
A song of warning for Helen. Whatever her decision, it will change her life forever. As the song says, "Don't go around tonight, it's bound to take your life, there's a bad moon on the rise!"
---
Alison is best known for her New York Times bestselling fantasy duololgy EON and EONA, and her ability to dance a mean English contra-dance. She also writes award winning science fiction and crime fiction, and lives with her lovely husband and their machiavellian Jack Russell Terrier in Melbourne, Australia.
a Rafflecopter giveaway
NEXT ON THE TOUR
A Dream Within A Dream
- 1/21 - review