---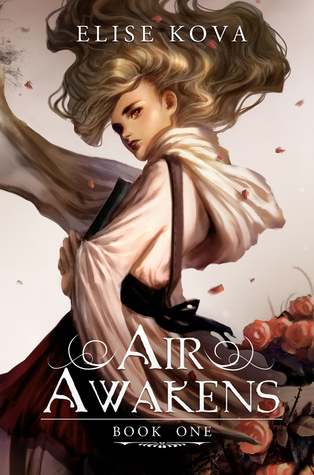 Air Awakens
Air Awakens #1
Author: Elise Kova
Reading Level: Young Adult
Genre: Fantasy
Released: August 27th 2015
Review Source: Silver Wing Press
A library apprentice, a sorcerer prince, and an unbreakable magic bond...

The Solaris Empire is one conquest away from uniting the continent, and the rare elemental magic sleeping in seventeen-year-old library apprentice Vhalla Yarl could shift the tides of war.

Vhalla has always been taught to fear the Tower of Sorcerers, a mysterious magic society, and has been happy in her quiet world of books. But after she unknowingly saves the life of one of the most powerful sorcerers of them all—the Crown Prince Aldrik—she finds herself enticed into his world. Now she must decide her future: Embrace her sorcery and leave the life she's known, or eradicate her magic and remain as she's always been. And with powerful forces lurking in the shadows, Vhalla's indecision could cost her more than she ever imagined.
I received a wonderful copy from the author, whom I cannot thank enough for this opportunity!
Vhalla Yarl loves being a library apprentice, and the smell of the pages she graces each day. Her circle of friends are a close nit group and everyday she works swiftly to hide and read the day away (pure bliss, am I right?).
That is, until Sareem starts seeing her differently, as a woman and not the childhood friend she prefers to remain. She also starts receiving notes slipped between pages within the Library from a secretive mentor of sorts, and oh yeah, she manages to unwittingly save one of the princes from disaster and it's starting to wreak havoc on her everyday life. Suddenly, drawing too much attention on her self from odd places, both high and low. Vhalla very much want's to sequester herself further into the library, but her Phantom isn't about to let her slip away that easily.
Upon completing chapter one, I felt the thrill and love of reading. I loved every moment of this book. Spoilers/not so spoilery: This novel is a mix of Avatar (not the blue kind), meets beauty and the beasts with those libraries ♡ with some awesome stuff all churned together.
After the first chapter I ran onto amazon ordered book 2 & 3!
Vhalla is a relate-able character, so human and acts like it. Kova writes her characters as realistic as possible adding the spark of greatness.