Welcome to our stop on the Fear My Mortality tour for Everly Frost. This tour is hosted by
Month9Books and Chapter by Chapter
.
---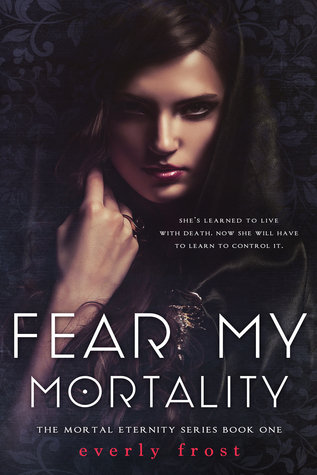 Fear My Mortality
Mortal Eternity #1
Author: Everly Frost
Reading Level: Young Adult
Genre: Fantasy
Released: April 5 2016
Review Source: Month9Books
In a world where people are invulnerable to illness and death, with lives spanning hundreds of years, a sixteen-year-old becomes witness to the impossible – her brother's failure to regenerate after death after which she suspects that she too may be mortal.
Three Characteristics that all YA Heroines Should Possess
Intuition, because all YA Heroines need to trust their instincts.
Resilience, because there's always hope.
Heart, because love and empathy are strengths, not weaknesses.
Five Books That Influenced Me in my Teen Years
1. Bryce Courtenay's The Power of One, which is a powerful story of fighting for equality and justice.
2. George Orwell's Nineteen Eighty-Four. Big Brother is watching you. Wow, the idea that people can give up their privacy, spy on their neighbors, and have their worst fears used against them is pretty scary.
3. Joan Lindsay's Picnic at Hanging Rock. Oh, the unsettling beauty of this book. It's a classic in Australian literature and still gives me shivers.
4. Raymond E. Feist's Magician. The world-building. The magic. Need I say more?
5. Tolkien's Lord of the Rings. The sheer imagination in these books is breathtaking.
What Made you Become an Author?
I grew up surrounded by women who had no voice in their lives. They weren't expected to be educated, to have dreams or hopes or the opportunity to work outside the home. Instead, they expressed themselves in the written word – in letters and in poetry. I still have my grandmother's letters to me, written in her elegant, swirly handwriting, and they inspire me to tell a story. The story of a girl who refuses to be made powerless and fights for her freedom.
Thanks so much for having me here today!
---
Everly Frost wrote her first story when she was nine. She grew up in a country town, lived for a little while in Japan, and worked for several years in Canberra, Australia's capital city. Now, Everly lives in Brisbane, Australia, with her husband and two children. She doesn't speak Japanese so often anymore, has left the cold Canberra winters behind, but has never stopped writing.
a Rafflecopter giveaway