---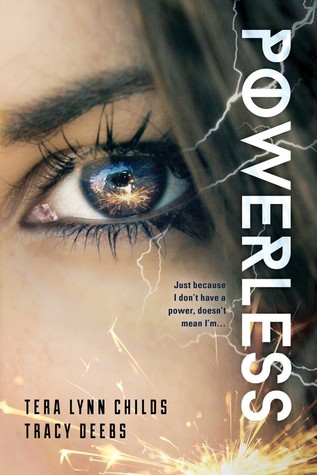 Powerless
The Hero Agenda #1
Author: Tera Lynn Childs & Tracy Deebs
Reading Level: Young Adult
Genre: Contemporary
Released: June 2nd 2015
Review Source: Sourcebooks Fire
Kenna is tired of being "normal". The only thing special about her is that she isn't special at all. Which is frustrating in a world of absolutes. Villains, like the one who killed her father, are bad. Heroes, like her mother and best friend, are good. And Kenna, unlike everyone else around her, is completely ordinary— which she hates.

She's secretly working on an experiment that will land her a place among the Heroes, but when a Villain saves her life during a break-in at her lab, Kenna discovers there's a whole lot of gray area when it comes to good and evil and who she can trust.. After all…not all strength comes from superpowers.
I so did not expect this book in more ways than one. Powerless is the story of an ordinary girl in a world full of heroes and villains. This, amongst other subjects throughout the novel, make for pretty common themes, however this book holds its own. I am a huge fan of both Marvel and DC, so I am not new to the superhero world but I don't think I've read many, if at all, novels about superheroes and villains and I'm glad this was my first.
Kenna, our main protagonist, is the ordinary girl who lives surrounded by individuals with superpowers. To Kenna, these heroes are the protectors of the ordinary humans like her, and have a great responsibility to use their powers wisely. As much as Kenna admires these heroes, she can't help but feel a little resentful at the fact that she's so well, plain. However, just because she doesn't have powers doesn't mean she's powerless. The one ability Kenna has is that she is immune to all powers, this in fact is her most guarded secret because that shouldn't be possible. On an ordinary night at the lab, a research facility run by the supers where her mother works for, Kenna's night becomes not so ordinary and her life and everything she knows turns completely upside down.
Without giving away anything too detailed, the premise of this novel is that the good guys aren't always good and the bad guys aren't always the vile villains everyone makes them out to be. Kenna will be forced to acknowledge some hard truths and face the fact that everything is not black and white, there's a whole grey area that she is about to discover.
Full of action, adventure, and a quest to figure out the truth, Kenna will make unlikely allies, new enemies, and maybe (possibly) get a chance at love in the midst of all this craziness. I very easily became attached to these characters (cough Draven cough) and I cannot wait to read the sequel and see what else is in store for this mismatched team of heroes and villains.