---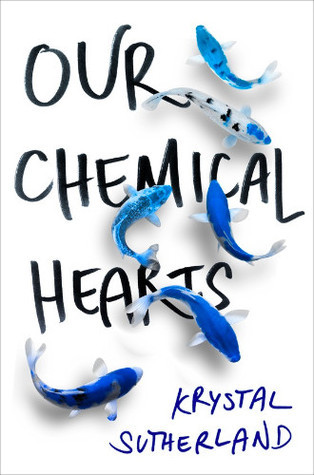 Our Chemical Hearts
Author: Krystal Sutherland
Reading Level: Young Adult
Genre: Contemporary
Released: October 4th 2016
Review Source: G.P. Putnam's Sons Books for Young Readers
John Green meets Rainbow Rowell in this irresistible story of first love, broken hearts, and the golden seams that put them back together again.

Henry Page has never been in love. He fancies himself a hopeless romantic, but the slo-mo, heart palpitating, can't-eat-can't-sleep kind of love that he's been hoping for just hasn't been in the cards for him—at least not yet. Instead, he's been happy to focus on his grades, on getting into a semi-decent college and finally becoming editor of his school newspaper. Then Grace Town walks into his first period class on the third Tuesday of senior year and he knows everything's about to change.

Grace isn't who Henry pictured as his dream girl—she walks with a cane, wears oversized boys' clothes, and rarely seems to shower. But when Grace and Henry are both chosen to edit the school paper, he quickly finds himself falling for her. It's obvious there's something broken about Grace, but it seems to make her even more beautiful to Henry, and he wants nothing more than to help her put the pieces back together again. And yet, this isn't your average story of boy meets girl. Krystal Sutherland's brilliant debut is equal parts wit and heartbreak, a potent reminder of the bittersweet bliss that is first love.
Our Chemical Hearts is a story about Henry Page and Grace. Henry is a focused student who is determined to become editor of his school newspaper. Life is looking out great for him until Grace walks in. She turns his life upside down and now he needs to share the editor's position with her... Even though she didn't want it at first. As in - forget the catch Henry, the position is all yours; I don't care, I have better things to do. Henry was captivated by Grace and her indifference and easily becomes obsessed with her. He wants to know everything detail about her life. But what he really wants to know why she wears boys clothes and most importantly why she is so sad, even if she's a goddess of beauty in a cane.
The more Henry learns about Grace, the more we come to realize this story is not about romance. No, this story is more of a coming of age story and how to deal with unexpected and tough situations. The more you get into the story, the more you feel sorry for Grace. There are things teens shouldn't go thru, such as guilt, and this what she is going thru. Henry learns to appreciate her friendship and becomes a person Grace can rely on. Her story of loss will make your heart bleed and if you've been thru this situation before, this will make you shed tears. Guilt can easily take over a person's life and lowly destroy it. However, Henry becomes that light and thankfully helps Grace overcome this tough situation.
Overall, Our Chemical Heart is a sweet story. It's raw and honest. We all deal with tough situation differently and sometimes we need a little push from a friend. The ending was nicely wrapped up and it made the story feel more real. And even though, Our Chemical Hearts deal with such topic, it really isn't a deep heartbreaking story. Especially when you have Henry as your main character and is such an adorable dork. He quotes and mentions some of my favorite fandoms here and there. So he will definitely make you laugh. (Check out our
blog tour
stop to view the list of some of the fandoms).