---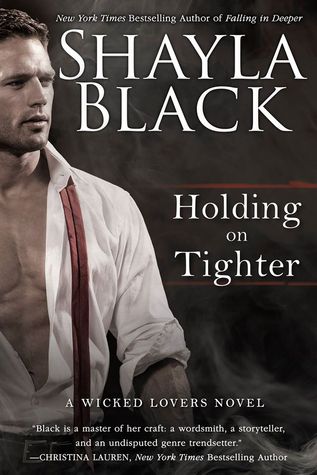 HOLDING ON TIGHTER
Wicked Lovers #12
Author: Shayla Black
Reading Level: Adult
Genre: Erotica
Released: February 7, 2017
Review Source: Berkley Books
Jolie Quinn is a woman in charge. Her no-nonsense attitude has made her a rising star in the fashion world and her brand a household name among the Dallas elite. Nothing will stop her from achieving her goals—not even the gorgeous British security contractor who seems just as interested in seeing her personal assets as he is in protecting her professional ones.

After a tragedy left him broken, Heath Powell made a rule of staying unattached. But Jolie challenges him in a way he can't ignore, and he isn't used to backing down from a confrontation—especially when the reward for winning could feel so good. As passion blazes between them, the stubborn, confident beauty arouses more than his desire. She touches his heart.

When a mysterious enemy threatens Jolie and her company, Heath is the only person Jolie can trust to help. But working with him to save her business might put her dangerously at risk of falling in love…
Holding on Tighter was another great book by Shayla Black. She is such a good story teller! This book starts with the ambitious, intelligent business owner, Jolie Quinn, trying to take her business to the next level. The way to do that is by securing a wealthy investor. She can't afford any distractions and her extremely sexy security guard, Heath Powell, is seriously testing her resolve.
While preparing for her meeting with the investor, her office is almost robbed and her sister has received a few anonymous slightly stalker-ish/threatening gifts. It's up to Heath, that happens to be no stranger to tragedy, to keep everyone safe.
I really loved this story. I had a hard time in the beginning getting into it because I felt the heroine's dialogue with the hero was a little unusual for a boss/employee relationship. I felt myself asking, no one would really ever say something like that, right? Also, it was rough to see the hero finish up with a one night stand and then confess how much he wants the heroine immediately after. Other than those things in the beginning I loved the book. At about 20 percent in, I could not put the book down! The chemistry between Heath and Jolie was off the charts. I love how take charge and controlling Jolie is. I get tired of reading about weak female characters immediately submitting to the male characters. NOT Jolie though, she tells Heath exactly what she wants and is not afraid to go for it.
I'm rating this book 4 stars because it was a great story and it had a little bit of everything. It had a strong independent heroine, a SEXY alpha hero, scorching chemistry, page turning suspense, and an amazing intensity that left me breathless. Even though this is book 12 in the series, it can be read as a stand alone.