---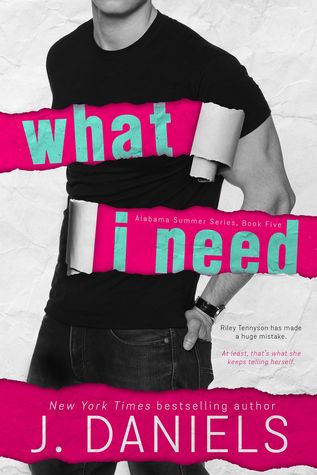 WHAT I NEED
Alabama Summer #4
Author: J. Daniels
Reading Level: New Adult
Genre: Contemporary Romance
Released: March 5, 2017
Review Source: InkSlingerPR
From New York Times bestselling author, J. Daniels, comes a sexy new STANDALONE novel.

Riley Tennyson has made a huge mistake.

At least, that's what she keeps telling herself.

Showing up to her brother's wedding pissed off and newly single, Riley seeks comfort in solitude and an open bar, until the gorgeous and irresistibly charming CJ Tully makes her a better offer―a wild night with the master of smooth-talking where nothing is off limits.

Riley does what any single woman would do, and a connection is made. One neither one of them can ignore. But when she comes home to the boyfriend she no longer thought she had, Riley buries her secret and begs CJ to do the same.

Forget about each other. It was a mistake. That's all it was… right?

Desires are hidden. Distance is kept. Until one night CJ makes the ultimate sacrifice, and Riley can no longer avoid the man she can't stop thinking about.

Not with him sleeping down the hall…
This is my VERY first J. Daniels book and this is book 4 out of the series. I mention that because I was able to get sucked into this world without any problem or confusion. I am EXTREMELY impressed with J. Daniels writing and how easily I could jump into the series.
What I Need, starts out with Riley dealing with her drunk boyfriend being an UBER prick! He basically asks her to choose between him and her brother, which is the ultimate way to get dumped on your ass. I was so glad, not knowing these characters at all, that Riley stuck to her guns and went to be supportive of her brother. It's at her brother's wedding that we are introduced to CJ Tully. Sparks explode between the two instantly. Riley isn't ready for a new relationship, especially when she has some unfinished business with her ex.
I absolutely LOVEEEEE the characters in this book. CJ and Riley might just be one of my favorite couples! Their chemistry is insanely HOT! Riley was frustrating for me in the beginning of the book but the more she grew in strength and maturity, the more I loved her. I pretty much loved CJ from the start. His whole southern charm and FILTHY mouth earned him a top stop on my book boyfriend list.
I'm rating this book 4.5 stars because it was a really great story that drew me in from the very beginning. I am a big fan of J. Daniels now and cannot wait to see what else she has for me to devour!
AVAILABLE NOW
ABOUT THE AUTHOR
J. Daniels is the New York Times and USA Today bestselling author of the Sweet Addiction series, the Alabama Summer series, and the Dirty Deeds series.
She would rather bake than cook, she listens to music entirely too loud, and loves writing stories her children will never read. Her husband and children are her greatest loves, with cupcakes coming in at a close second.
J grew up in Baltimore and resides in Maryland with her family.