Welcome to our stop on Underwater tour for Marisa Reichardt. This tour is hosted by
The Fantastic Flying Book Club Tours
.
---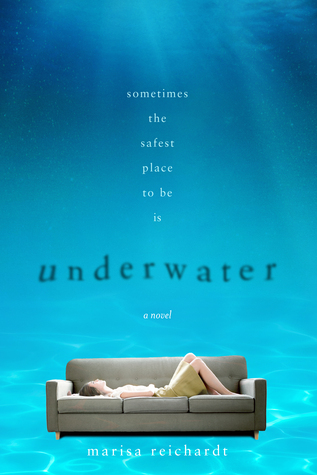 Underwater
Author: Marisa Reichardt
Reading Level: Young Adult
Genre: Contemporary
Released: January 12th 2016
Publisher: Farrar, Straus, & Giroux
Morgan didn't mean to do anything wrong that day. Actually, she meant to do something right. But her kind act inadvertently played a role in a deadly tragedy. In order to move on, Morgan must learn to forgive—first someone who did something that might be unforgivable, and then, herself.

But Morgan can't move on. She can't even move beyond the front door of the apartment she shares with her mother and little brother. Morgan feels like she's underwater, unable to surface. Unable to see her friends. Unable to go to school.

When it seems Morgan can't hold her breath any longer, a new boy moves in next door. Evan reminds her of the salty ocean air and the rush she used to get from swimming. He might be just what she needs to help her reconnect with the world outside.

Underwater is a powerful, hopeful debut novel about redemption, recovery, and finding the strength it takes to face your past and move on.
STORY BEHIND THE COVER
I was so honored to have the opportunity to speak with my cover designer, Andrew Arnold about the phenomenal cover design he did for Underwater. Here's our chat.
1. One of the most exciting parts of the debut experience was that first moment when I opened my email to see your AMAZING cover design for UNDERWATER. I literally gasped. I loved it so much. How do you begin the brainstorming process for a cover design and, more specifically, what were some of the things you took into consideration for UNDERWATER?
I'm so glad you're happy with it—and I'm so glad that I was able to design it!
With every cover I design, one of my main goals is to capture the tone of the story. Sometimes a scene can help me do that, or sometimes it's an icon. Or, maybe it's an image—or several images—that come to mind as I'm reading the book. As I read UNDERWATER, a few things kept coming to mind: Morgan's apartment, couch, and high school swimming pool. I wasn't entirely sure how—or even if—these images could work together, but they interested me the most so I started laying out a few of my ideas.
2. Conceptually, I'm in love with the couch underwater. From the moment I saw it I knew it was perfection. How did you think to merge the isolation of Morgan on her couch with the pool?
I had several versions of this cover where Morgan was laying on the couch against a blue wall. I really liked those earlier versions and thought one could work, but the more I looked at them the more I thought the wall wasn't enough. They felt like they were missing something. I quickly swapped it out with water (fully convinced that it would look silly, by the way...) but was surprised by how much I liked it once it was there. After some tweaking and patience, it finally felt right to me.
3. The scale of Morgan is so small compared to the shock of blue water. Was that scale intentional? To show pressure on Morgan?
Yes, that scale was most definitely intentional! I hadn't intended for it to show pressure but loneliness. When the cover had a big blue wall, I thought it did a really good job of capturing that. Once I swapped the wall with water, that sense of scale took on a new meaning. It's interesting how things can just sort of happen when you continue to explore, you know...?
4. I know you have a background in comics and cartooning. How did we get so lucky to find you in the world of YA book cover design?
The beauty of having a background in comics and cartooning is that it can lead you into so many different places: comics, picture books, film, animation, design... Similar to cartoonists, cover designers use both words and pictures together to relay information to readers. I know the link between these two professions may sound like a stretch, but for me it's what I find most enjoyable about what I do!
5. Do you have any exciting upcoming projects you can tell us about?
My fellow co-authors James Sturm, Alexis Frederick-Frost and I putting the finishing touches on HOCUS FOCUS, the last picture book in the Adventures in Cartooning series. Aside from that, I'm in the beginning stages of putting together some other picture book ideas that I hope to have ready in the near future... Hopefully more on those soon!
Thanks so much, Andrew! This is great insight to the world of book cover design!
---
I'm a SoCal native and high school writing instructor. I currently live in Los Angeles and can usually be found huddled over my laptop in coffeehouses or swimming in the ocean.
My debut YA contemporary novel, UNDERWATER, will be out 1/12/16 from Macmillan/FSG and 4/7/16 Macmillan Children's UK.
I love all books and all genres. While I do keep track of all the books I've read here, I generally don't do ratings or reviews.
- Open to US ONLY.
- Must be 13 or older to enter.
- Giveaway starts 1/7 until 1/23.
- All entries are double-checked and false entries will be disqualified
- Winner will be notified via email and needs to answer in 48 hours letting us know if he/she accepts the prize and send us his/her full name and address.
- Your personal information won't be used or be seen unless you're the winner of the giveaway. We won't sell it nor use it in a bad way. But please note that your full name and address will be sent to Fierce Reads in order for you to get your prize.
- Tour Hosts as well as the member of the FFBC Tours are not responsible for any lost or stolen items.
- One participant cannot win more than one prize in a same giveaway. See our Tour Guidelines in our website for more information.
a Rafflecopter giveaway