Welcome to our stop on To The Stars tour for Molly McAdams. This tour is hosted by
InkSlinger PR.
.
---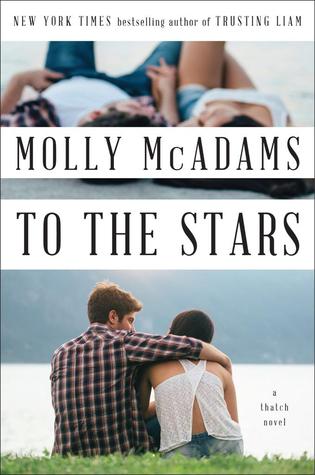 To The Stars
Author: Molly McAdams
Reading Level: New Adult
Genre: Romance
Released: February 9 2016
Review Source: William Morrow Paperbacks
In the second book in New York Times and USA Today bestselling author Molly McAdams' Thatch series, Knox Alexander must convince his long-time love Harlow Evans that they're meant to be together.

He promised to wait for her. She told him he was wasting his time. Not waiting for him ended up being the biggest mistake of her life.

When they were younger, Knox Alexander swore to Harlow Evans that he would wait for her to turn eighteen so they could be together. But that was three and a half years away, and Harlow couldn't ask him to give up all the fun and thrills of going away to college for her. As the years passed, Knox remained a constant in her life—whether she liked it or not—but when her eighteenth birthday came around, Harlow's heart belonged to someone else.

Every day for the last four years, Harlow has been haunted by that fateful choice. And though he may appear unaffected by what happened in their past, Knox has always tried to fill the void Harlow left. But when he comes stumbling back into her life and refuses to leave, will Harlow finally let him into her heart…?
This book may be unsuitable for people under 17 years of age due to its use of sexual content, drug and alcohol use, and/or violence.
Harlow and Knox were destined to be together - they both knew it from the moment they met one another. But life got in the way: as it tends to do. Knox found himself trying to lose his thoughts of Harlow in other women, while Harlow was only worrying for her families lives while being married to a man, who she no longer knew. As fate would have it Knox came back into Harlow's life right at the most opportune moment, but can Harlow allow him to risk his own life just so they can finally be together?
Oh my gosh. I have said it before, and I will say it again. Molly McAdams is queen. I seriously love her books. Each and every one gives you a new emotion that you never knew you could experience while reading. While this one was hard to handle at times - for the abusive relationship that takes place between Harlow and her husband Collin - it was definitely worth it. From that first chapter McAdams' had me in tears - but seriously if you're picking up a Molly McAdams book you expect to cry at least once during the book. But I feel like this was the first time I cried out of fear for the main character. I also cried happy tears whenever Harlow had little moments with Knox, but there were moments where I was completely and utterly afraid for Harlow.
Having read Letting Go, the first book in this series, I remember loving Knox in the few scenes he was in. So to be able to read his story and get to know him as a character was amazing. And it basically made me love Graham and Deacon even more. The protective "older brother" role that the take on makes them easily lovable. And you kind of just want to give them a bear hug! I also loved seeing Grey and Jagger in this series. My only problem is I thought Jagger was going to be my favorite male in this series - I should've known with McAdams' writing that I would yet again fall for this lead male. Knox is pretty much what every girl wants; he is the big protector who will put himself into any situation just to make sure the love of his life is safe. He does take the precautions Harlow wants, but that doesn't completely stop him from keeping an eye on her. And that is adorable to me.
Basically this book will make you feel all the feels. You will laugh, you will cry, you will be on the edge of your seat. It will make you want a love story that Knox and Harlow has, because Why would anyone waste their time only loving someone to the moon when they could love them To The Stars?
Excerpt
"Happy birthday, Low. I waited for you."
The instant his voice filtered through the phone, my body stilled and warmed at the same time. My breath came out in a soft, audible huff, and my eyes shut as hundreds of welcome memories flooded my mind.
I didn't have to look at the screen to know who was calling. I would know that voice anywhere, and I should have been expecting his call. Not just his call. This call. We'd been preparing for and talking about this call for two and a half years now.
My lips and fingers trembled, and I almost dropped the phone as I tried to make my throat work.
"I waited for you", played over and over again like a broken record. A broken record with the most beautiful music still coming from it.
Turning my head just enough to look over my shoulder, I eyed the guy shrugging into his shirt, and my chest ached when I faced forward again.
No longer seeing the dorm room I was standing in, I let our memories consume me. "I—" I took in a shaky breath, and my voice came out as a strained whisper. "I didn't wait for you."
There was nothing. No sound, no response—only the most heartbreaking silence I've ever endured.
---
Molly grew up in California but now lives in the oh-so-amazing state of Texas with her husband and furry four-legged daughters. When she's not diving into the world of her characters, some of her hobbies include hiking, snowboarding, traveling, and long walks on the beach … which roughly translates to being a homebody with her hubby and dishing out movie quotes. She has a weakness for crude-humored movies, fried pickles and loves curling up in a fluffy comforter during a thunderstorm ... or under one in a bathtub if there are tornados. That way she can pretend they aren't really happening.
Giveaway:
Win a signed copy of Letting Go and To The Stars and a $50 Amazon or Barnes and Noble gift card (1 winner)!
a Rafflecopter giveaway
February 15th